Sustainable Gardening at B'nai Havurah
A message from Rabbi Katie:
Spiritual practice takes many forms – from the words and melodies of liturgy to the silence of meditation, to the motions of yoga or tai chi. In the past several years, I have begun to consider gardening to be one of my most important forms of spiritual practice. I have learned so much in the garden – lessons that apply to leadership and personal growth. I find that the joy that comes from connecting to earth and nurturing life is deep and fulfilling.
It has therefore thrilled me to no end to see a group of gardeners spring up at B'nai to take on the sacred task of stewarding the landscape around our building on Ohio Avenue. Not only does this align with my own personal sense of spirituality, it is also a meaningful opportunity for us as a community to enact the values of tikkun olam that we hold dear. Creating a sustainable garden, appropriate for our climate in Colorado, is a small but meaningful way we can take action to improve the health of our local eco-system, conserve water, and provide a model for how others can do the same. And it's going to make a huge improvement in how our sacred space looks! Please keep reading to learn more about the project, and find out how you can get involved.
What's the Plan?
The first step in the transformation of our landscape is to smother the Kentucky Bluegrass lawn on the south side of our building. We are doing that with cardboard, covered in pea gravel. Why cardboard? It will effectively kill the grass while keeping our nice topsoil and avoiding the use of toxic chemicals.
Why pea gravel? It is a great mulch for native plants. It does not biodegrade like mulch made from bark does, it reflects the intense sunlight, and it actually helps channel any moisture in the air to the roots of the plants.
Later this summer and early this fall we will begin planting perennials that are adapted to Colorado's low annual rainfall and intense sunshine. By using native plants we will be creating habitat for pollinating insects like bees, moths and butterflies. Native plants create habitat for a variety of beneficial insects and birds. And we are selecting plants that will enhance the appearance of our property throughout the year.
The end result of this transformation will be a landscape that uses less water, does not require chemical fertilizer or pesticides, and supports life. We will keep updating this site with information that might help you with your own yard.
Cardboard was placed to cover the grass.
The entrance to the building in 2022
Pea gravel was placed on top of cardboard.

Here's how it looks now!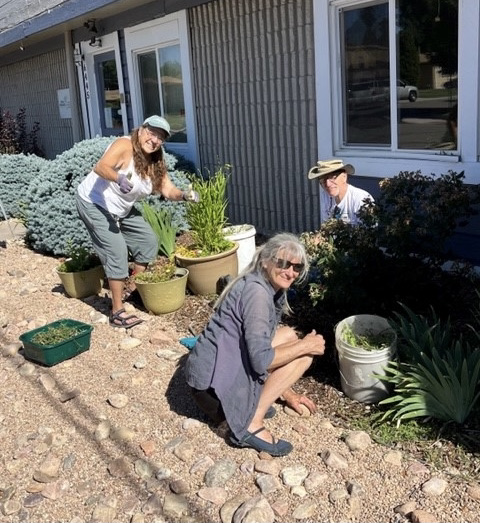 Weeders hard at work....
How you can help
The Sustainable Gardening project runs on volunteer power! There are many ways for you to help this effort whether you are an experienced gardener, what to learn more about sustainable gardening, or just want to contribute in another way.
Donate plants! Do you have native perennial plants in your yard that you are planning to thin later this summer? We would love to hear from you. The more plants are donated, the less money we have to spend on purchasing plants.
Join a scheduled work day! Whether you have gardening experience or want to learn how to garden, we could use your help on the planting days that will happen later this year. We also need folks to support volunteers by serving food and beverages. And it would be great to have someone taking pictures.
Weeding, weeding, and more weeding! Another way to learn about gardening is to join us for Sundays in the Garden, which will start later this summer. We'll meet at B'nai, pull a few weeds, then get coffee nearby and talk gardening. It is a casual get together to accomplish a needed task and share gardening expertise with one another.
If any of these sound interesting, contact Sharon Tinianow at sharontinianow@gmail.com. She will add you to the list of interested volunteers.
B'nai members at a "Beautify B'nai" event in 2022.
Thu, September 28 2023 13 Tishrei 5784