Hebrew Boot Camp: Learn the basics of Hebrew reading in two half days!
Past Sessions
Sunday, February 7, 2021

•

25 Sh'vat 5781

-

10:00 AM - 2:00 PM

-

Virtually, on Zoom
Sunday, January 31, 2021

•

18 Sh'vat 5781

-

10:00 AM - 2:00 PM

-

Virtually, on Zoom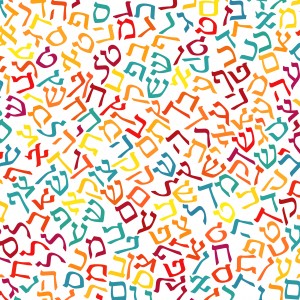 Study the basics of Hebrew with Rabbi Evette and have fun in the process!
By the end of the Marathon, you will::

• learn the basics of Hebrew reading, from Alef to Tav!
• be able to read 180 important Hebrew words!
• have a positive, joyful relationship with the language of our heritage!

How it works: We'll be using the workbook While Standing on One Foot, by Rabbi Noah Golinkin, z"l; the portions of the book you will need, and any other necessary materials, will be sent to you by email before class starts. By the end of the marathon, students will know the Hebrew aleph-bet, and be able to read 180 Hebrew words and simple b'rachot/blessings.

Cost: B'nai Members - no charge; Friends (guests) of B'nai - $36 (includes class fee and materials)

Registration is required, below, or by calling the office at 303-388-4441. Attendance at both sessions is necessary.
Rabbi Evette Lutman serves as a teacher and spiritual leader of B'nai Havurah, Denver Jewish Reconstructionist Congregation. She is a graduate of the Reconstructionist Rabbinical College (RRC), as well as the Ohio State College of Law. Rabbi Evette is passionate about Mussar – Jewish Ethics, having studied for two years at RRC with Rabbi Ira Stone, Rosh Yeshiva of the Mussar Leadership Program in Philadelphia. Rabbi Evette is driven by the torah passage, "Tzedek, tzedek tirdof" – "Justice, justice you shall pursue!". She challenges both adults and children to be an ongoing part of the repair of our world, through personal involvement in social justice projects and public advocacy.
Sorry, Registration has ended.
Share Print Save To My Calendar
Tue, March 2 2021 18 Adar 5781