Community-Wide Women's Rosh Hodesh: a Spiritual Tune-Up
Sunday, March 30, 2014 • 28 Adar II 5774
2:30 PM - 6:30 PM
Temple Emanuel.51 S. Grape Street
Call or email - 303-321-7430 • denverchapter@hadassah.org / Charge cards accepted
Schedule
2:30: Check-in
3:00: Ellyn Hutt, Keynote Speaker
3:45-4:30 and 4:45-5:30:
Four Learning Sessions, Select Two
5:30: Dinner Celebration
Delicious Kosher Dinner
Catered by Cohen's Cuisine
6:30: Closing
Share Print Save To Your Calendar
Tue, 2 September 2014 7 Elul 5774
Tue, 2 September 2014
7 Elul 5774
Register above if you would like to receive our weekly e-newsletter, "What's Nu" and receive news of upcoming events and services,
View the Most Recent "What's Nu" here.
See archived "What's Nu" publications here.
Dinner, Auction, Music and Dancing - Help us celebrate education at B'nai Havurah!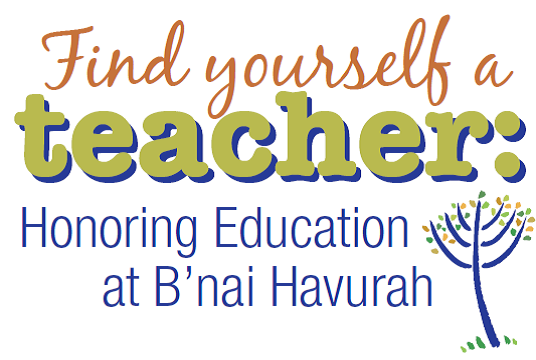 Join us on Saturday, September 6 at 6 pm for our annual fundraising event, "Find Yourself a Teacher", featuring dinner, silent and live auction, and dancing to Hal Aqua and the Lost Tribe. Information - here.
Easy as Pie - Login here
If you have never logged in before or don't know your password, login here. Access your account, pay your membership, utilize our online directory by logging in here
Grocery Gift Cards are an Easy Way to Support your Congregation!
The B'nai Havurah Grocery Gift Card Program is a great way to support our programs and services. The program is FREE to you and you support B'nai Havurah with every purchase of groceries you make! With each grocery purchase (and we all shop, right??) B'nai Havurah receives a percentage. For additional information and to order your card(s), click here. to order your card online. Go 2/3 of the way down the page and you will find the grocery artwork and registration form!
Help us by making your tax-deductible gift. Donate online and select Above & Beyond in the pull down menu. Give now to benefit from a year-end tax deduction.